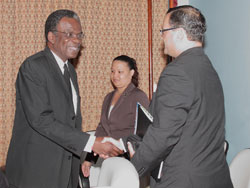 Indian High Commissioner to Trinidad and Tobago Malay Mishra met representatives of the Tobago House of Assembly on Thursday (February 24th 2011) to review projects in which the Government of India is providing assistance.
He said from discussions at previous meetings a programme was developed for Tobago and there were a number of areas that have come up that needed review and further discussions.
THA Chief Secretary Orville London who headed an Assembly team described the occasion as a business meeting to "follow up a number of issues we have been involved in over the past couple years". He added: "I must say that we in the Assembly recognise that this High Commissioner has been a very proactive individual and I think that during his tenure we all recognised that he has initiated a number of projects and what we are trying to do today is to ensure that we take the process forward."
London also expressed the Assembly's appreciation for the quality of not just Mishra's representation of India but the level of collaboration he has been able to bring between the THA and the High Commission and said he was certain it will be intensified.