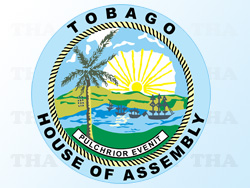 The Tobago House of Assembly (THA) on Thursday (24th February 2011) paid out approximately $.4 million to 115 root crop farmers and fishermen for their loss as a result of Hurricane Tomas in November.
Agriculture, Marine Affairs, Marketing and the Environment Secretary Hilton Sandy explained at the presentation ceremony that the cheques took long in coming because the claims had to be sanitised. He said investigations had revealed that claims for previous disasters were inflated and therefore his Division had to ensure that this was not repeated.
He disclosed that claims from livestock farmers came in late and were now being sanitised for payment to be made.
Sandy along with Chief Secretary Orville London and the Division's Administrator Ethlyn John distributed the cheques at the PRDI conference room.
The Agriculture Secretary revealed that he had written to the Agricultural Development Bank (ADB) which had $25 million to provide loans exclusively for Tobago farmers for a meeting to discuss a softer method for Tobago farmers to get these loans. He said the new system of the bank did not cater for farmers getting loans to purchase vehicles and therefore the discussions will also try to reach an agreement on how to bypass this.
Chief Secretary London informed the audience that the Assembly had a Disaster Relief Fund which had limitations and it was based on the resources available that claims can be paid. However, he said it was because of the Assembly's understanding of the importance of farmers and fishermen to Tobago's development and survival that it was involved in the exercise.
He said Trinidad and Tobago was one of the few countries in the world where the response to natural disasters allowed the level of assistance to people as allowed in this country. "I say without fear of contradiction that the Tobago House of Assembly has one of the best track records not in the region but in the world in responding to people when natural disasters come," he added.
London said sometimes people focus on what has not been done for them that they often time do not take time off to appreciate and understand what was being done for them and what made them special people in Tobago being treated in a special way. He added that he wanted them to see themselves as special people being treated in a special way because the Assembly understood the special contribution they made to the people of Tobago.