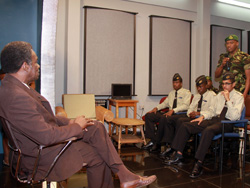 THA Chief Secretary Orville London is advocating that females be included in the six-year-old MILAT/MYPART semi military programme.
He said he was aware that this would have challenges but if something was relevant to the males it must have some relevance to females. He added that it took some time over the years for females to be incorporated into similar programmes.
Acknowledging that the programme was introduced for male youths at risk between 15 and 20 years and while they may be still more at risk than females he didn't see why it can't be adjusted to accommodate females. He said he was in support of the programme and pointed out that ways and means must be found to expand it in Trinidad and Tobago.
The Tobago Chief Secretary was at the time speaking with six cadets and three instructors of the MILAT/MYPART programme during a courtesy call at the Calder Hall Administrative Complex, Scarborough on Tuesday. (August 14 2012) The cadets and tutors were one of four groups visiting historical sites in Tobago as part of their training.
London told the cadets that he was very impressed by what he was told of the programme and said they may have had some very challenging experiences during their three-year training.
Sgt Brown of the T&T Defence Force said he had seen many of the young men in the programme change their lives as a result of the blend of military and academic training.