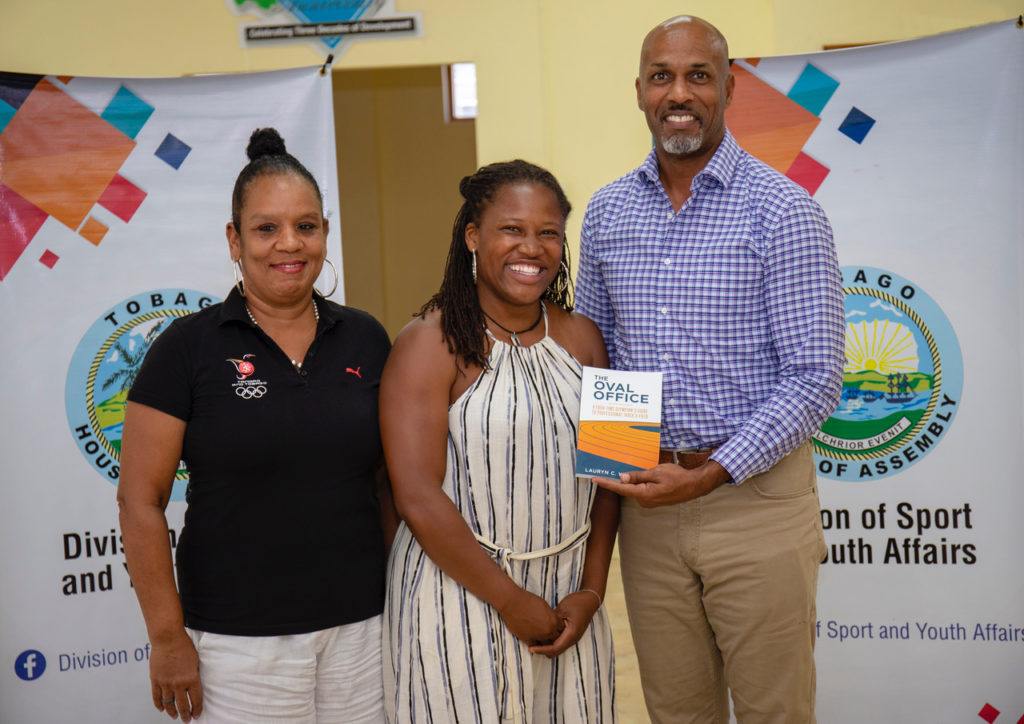 There is always an opportunity in the midst of an obstacle.
This was the message to Tobago's athletes from former World women's sprint champion and dual Olympic silver medallist Lauryn Williams. She visited Tobago on Easter weekend on the invitation of the Trinidad and Tobago Olympic Committee (TTOC).
Williams' trip was hosted by the Division of Sport and Youth Affairs. The visit included a press conference on Tuesday (April 23) at the Buccoo Integrated Facility. Previously, she spent a week in Trinidad, and met with the TTOC.
Williams has Tobago roots; her father was born on the island, and this is her second trip here.
"I'm really excited to be reconnecting with my roots, getting to learn more about where I came from and understanding who I am," said the former sprinter, who earned silver at the 2004 Summer Olympics (100 metres) and at the 2014 Winter Olympics (two-woman bobsled).
The former athlete also promoted her new book, "The Oval Office"—which she said is a guide for the next generation of track and field athletes—and shared her experiences with some of the island's up and coming athletes.
The book contains chapters on education, financial management, branding, doping agents and nutrition. Williams also went on to give the assurance that she will be collaborating on a programme that will allow her to help local athletes achieve their full potential.
TTOC General Secretary Annette Knott said the Committee wants to help athletes get more opportunities to excel.
"…And we couldn't have asked for a better mentor, a better partnership than we would soon hope to develop with someone like Lauryn Williams," Knott stated.
The Division's technical director of sport Lyndell Hoyte-Sanchez said she is pleased to have Williams visit this country, and "to highlight where she came from, what she has been through and what she has been able to achieve.
"With regards to the book," Hoyte-Sanchez said, "it seems that there's a lot of information in the book that can help individuals once they are willing to read it, interpret it as they should and use it as a guide going forward."
Williams also attended the Buccoo Goat and Crab Race Festival on Tuesday, and even participated by racing a crab.