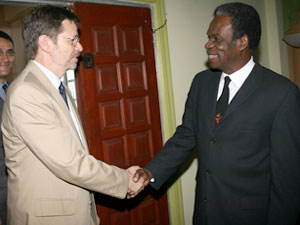 German Ambassador Stefan Schlüter and Mr. Patrick Dankou, German Person of Trust, paid a courtesy call on Chief Secretary Orville London at his Calder Hall office this morning. Also, present was Assemblyman Oswald Williams, Secretary of Tourism and Transportation.
Ambassador Schlüter and Chief Secretary London discussed a range of issues pertaining to tourism in Tobago, including the impending tax on air passengers which would pose challenges for the Tobago tourism industry. However, it was highlighted that this would be a standard tax to travel outside of Germany, and, therefore, the tax would not place Tobago at a disadvantage in relation to other tourist destinations. Chief Secretary London noted that, at present, Trinidad and Tobago is looking at ways to enhance its competitiveness in various tourist markets, as well as to increase its capacity to facilitate more efficient air and sea transportation between the sister isles.
Discussions between Ambassador Schlüter and the Chief Secretary also included investment opportunities linked to green technologies, since Germany is a leader in this arena. Special focus was placed on the Cove Eco-Industrial and Business Park and the investment opportunities that would become available there. Chief Secretary London indicated that he looked forward to further collaboration with the German Embassy in the near future.