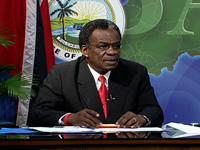 On behalf of the people of Tobago, I extend sincere condolences to the Thompson family and the people of Barbados, on the passing of the Rt. Honourable David Thompson, late Prime Minister of Barbados.
In recent months, we have observed and admired Prime Minister Thompson's courage and dignity as this relatively young leader coped with a devastating illness in the full glare of public scrutiny.
We are also aware of the tremendous contribution to the development of Barbados and his unwavering commitment to Regional Corporation since his entry into politics at a very early age.  We honour his memory and pay tribute to his achievements.
At this time, we empathize with the people of Barbados, who despite their knowledge of his serious illness must have been traumatized by his death.  We join them in mourning his loss and we trust that they will be comforted and inspired by his life and his work.  We have lost a statesman and a gentleman whose tremendous potential will never be realized but whose impact on his island and this region cannot be undervalued.
May his soul rest in peace.