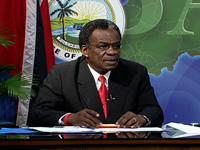 The Police have granted approval to the Tobago House of Assembly (THA) to stage its full programme of celebrations on Republic Day at Roxborough, Chief Secretary Orville London disclosed on Tuesday. He told reporters at the weekly post Executive Council media briefing that he received verbal approval of this from ACP Tobago Franklyn Edwards.
London said the celebrations on September 24 will include a sea festival and cultural show leading up to the annual fireworks display at the Cyd Gray Sporting Complex.
London also revealed that the first Tobago Medal of Honour Awards ceremony will be held as part of the 30th Anniversary of the House of Assembly in December. Awards will be presented to Tobagonians who gave outstanding service to Tobago. A Motion to establish the awards was recently accepted by members of the Assembly. He said a sports festival to which Tobago sporting icons Dwight Yorke and others will be invited to participate. The festival will also include a celebrity cricket match.