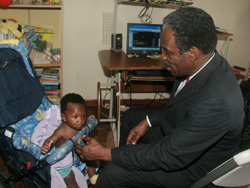 THA Chief Secretary Orville London has promised help in the form of infrastructural upgrade to the Family First Foundation Home for Children, in Calder Hall. London was on his customary Christmas-time visit to homes for disadvantaged children and the elderly, when he made the announcement.
Come Tuesday, 3rd January, 2011, workers in the Unemployment Relief Programme (URP) will assist in refurbishing the building. London explained that the institution could not continue to function on the efforts of one person as he also disclosed plans to assign some (Employment Training Programme (ETP) employees to assist at the Home. He said housemother Merle Hercules had shown goodwill, goodness, dedication and sacrifice throughout her life taking care of the disadvantaged. For this, he said, she must be commended. A very pleased Hercules exclaimed: "We are always happy to have him because we know that we are on his mind."
London had promised to assist the Sylphil Home in Love, another children's home, with their new structure at Lambeau, late last year. By February 2011, after prudently using the first tranche of $125,000, housemother Susan Phillips-Jack received the remainder of the promised $300,000.
Speaking at the Sylphil Home on Tuesday (20 December, 2011), London said the Assembly did not see itself as a benefactor of the Home but as a partner to an institution that was providing invaluable service to Tobago. He said Tobago appreciated the efforts of this home which provided love and care for the disadvantaged.
Phillips-Jack remarked that she was grateful for the assistance of London and the Assembly over the years. And, like her counterpart, she noted that his visit was always anticipated because the children loved him very much.