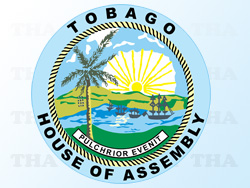 The Tobago House of Assembly (THA) will host its monthly electoral district meeting on Thursday April 10 2014 at the Castara Government Primary School starting at 7 p.m.
The Meet the Community initiative was launched shortly after the overwhelming electoral mandate received by the present administration and the commitment by the Chief Secretary to greater people participation in the governance process.
Secretaries and Assistant Secretaries meet with the community members, on a monthly basis, to discuss the operations of their respective divisions and the specific concerns of the residents. At this Thursday's meeting, discussions will focus on the various social services offered to the Tobago public while Tracy Davidson-Celestine, representative for Parlatuvier/L'Anse Fourmi/Speyside will give an account of her stewardship since being elected on January 21 2013
Members of the district are specially invited to attend the meeting, join the conversation and make recommendations so that they could contribute to the development of their communities and strengthen the democratisation process on the island.
Deputy Chief Secretary and Secretary of Tourism and Transportation Assemblyman Tracy Davidson-Celestine will present the Assembly's programme for the island's tourism sector.