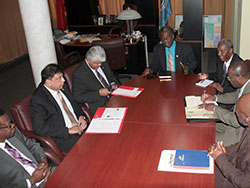 Tobagonians are to operate and maintain the $300 million gas processing plant currently in its finishing stages at the Cove Eco-Industrial and Business Park in southwest Tobago, National Gas Company (NGC) President Indar Maharaj said yesterday. (Friday 13th July 2012)
The plan will also create an opportunity for a gas based industry to begin and for vehicles to use CNG in Tobago, he added.
Already the company in collaboration with the Tobago House of Assembly (THA) and the University of Trinidad and Tobago (UTT) has trained nine young Tobagonians as plant operators and will begin the training of plant maintenance technicians shortly.
Maharaj was speaking after a meeting of energy officials and representatives of the Tobago House of Assembly (THA) chaired by Chief Secretary Orville London at the Calder Hall Administrative Complex, Scarborough.
Maharaj said the laying of the $1.1 billion gas pipeline from the BHP Billiton field off East Trinidad was completed and the processing plan was scheduled to come on stream by the end of this year. Following this gas will be supplied to the nearby T&TEC power plant which will phase out the use of diesel fuel over a period of a few months.
Chief Secretary London described the 45-minute meeting as "very productive", adding that the Assembly and the NGC have had a very productive and mutually beneficial relationship over the years. He said the NGC has assisted with some major projects on the island including the swimming pool at Courland, the facilities at Shaw Park, Mason Hall, Bethel and other areas.
He said the change over from diesel to gas would bring a level of predictability to the electricity supply especially because of the recent challenges in the supply to the island. He said it will also be an opportunity for tenants of Cove to use the gas in their business.
Accompanying Maharaj at the meeting were NGC Deputy Chairman Roopchan Chadeesingh and National Energy Corporation President Andrew Jupiter. With London were Deputy Chief Secretary Hilton Sandy, Chief Administrator Dr Ellis Burris and Executive Adviser Norris Jack.