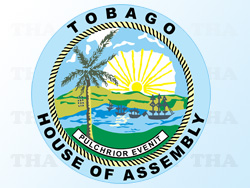 The Tobago House of Assembly (THA) has stepped in to assist beneficiaries and other clients of the National Insurance Board (NIB) who have been deprived of service for the past month at the Board's Tobago Local Office in Scarborough.
A meeting to discuss the cause of the problems experienced at the office located in the NIB Mall was convened by THA Chief Secretary Orville London yesterday (Friday 13th July 2013). During the meeting attended by NIB directors and staff of the office it was revealed that the sewer system at the Mall was malfunctioning creating a "big stink".
Deputy Chief Secretary and Secretary of Infrastructure Hilton Sandy said after the meeting at the Calder Hall Administrative Complex that remedial work to the sewer system at the Mall will commence almost immediately. He said staff of his Division as well as the Water and Sewerage Authority (WASA) will be at work until the problem was fixed.
Sandy said the NIB in the meantime will relocate its office while general repairs were being done to the Mall to enhance its appearance in keeping with the two other public buildings nearby.