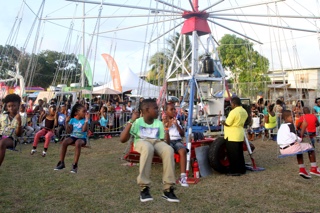 Over the Easter weekend, various annual events in Tobago were given a financial boost totaling $700,000.
And according to Secretary of the Division of Community Development and Culture, Dr. Denise Tsoiafatt-Angus, the investment reflects the importance of the events to the culture of the island, as well as its tourism sector.
This included the popular Buccoo Goat and Crab Race Festival, which took place on Tuesday at the Buccoo Integrated Facility, and the Carnbee/Mt Pleasant Sports Festival at the Mt. Pleasant Recreation Ground on Easter Monday.
Sonfest 2015, the three-night gospel event themed "Celebrating Jesus," which ran from Good Friday to Easter Sunday at the Scarborough Esplanade, also got support from the Tobago House of Assembly (THA). The event has been around for more than three decades, and is annually hosted by Rev Dr. Glenroy Frank and the People's Pentecostal Church.
"The Tobago House of Assembly, in appreciating the season of Easter and the ability to attract a number of tourists to the island, would have invested close to $700,000 in various areas throughout the Easter weekend," Dr. Denise Tsoiafatt-Angus explained during yesterday's (April 9, 2015) post Executive Council media briefing.
The Secretary said the Buccoo event continues to be a success, and also noted there was a "significant number of tourists on the island" during Easter.
"Celebrating 90 years of a heritage of racing goats certainly is something that we should be proud of,"Tsoiafatt-Angus stated. "It is probably the oldest tradition of racing goats, not just on the island or in the country, but perhaps across the world. It is certainly an indigenous sport that we take pride in and continue to build on."
During the media briefing, Secretary of the Division of Finance and Enterprise Development Joel Jack revealed that he recently met with representatives of the Caribbean Tourism Organization (CTO) to discuss ways to further develop tourism in Tobago. Jack said the CTO "has committed to providing detailed tourism-specific data to both Trinidad and Tobago". The data will help assess the impact of tourism on Tobago's economy.