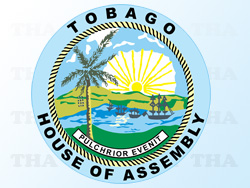 Chief Secretary Orville London said the Forum of Political Parties' offer remains open for Tobago Organisation of the People (TOP) leader Ashworth Jack to represent Tobago in talks about the island's self-government.
Jack declined London's offer to represent Tobago on the team set to meet with the Central Government to discuss the autonomy issue.
Instead he has accepted the Prime Minister's offer to be an adviser to the Central Government team which she appointed.
The Prime Minister, in a letter to London on February 10, confirmed her proposal that Jack and Tobago-based attorney Christo Gift, SC "join the team, which will delve further into the matter of self-government for Tobago". She further advised London that this joint team will meet after this year's Carnival celebrations.
Commenting on this development at last week's post Executive Council media briefing at the Administrative Complex, Calder Hall, the Chief Secretary questioned Jack's decision not to represent Tobago at the meeting.
"How can you, as leader of the Tobago Organisation of the People, you are invited to join Tobago to talk to Central Government and you are making the choice to turn your back on Tobago and the Tobago team, not as a member but an adviser to the Central Government."
He added that he told the Prime Minister that one of the main objectives of the process is to put loyalty to Tobago first. Jack, London reasoned, can demand a place on the Tobago team because he represents a percentage of the people of Tobago, even though he was not involved through most of the process.
London said the offer remains open for Jack to join the Tobago team. The Chief Secretary will write to the Prime Minister urging her "in the interest of the process and the people of Tobago to withdraw the offer to have Mr Jack demoted to the position of adviser and allow him to take his rightful place as a representative of a significant proportion of the people of Tobago on a Tobago team going to fight in the interest of Tobago".