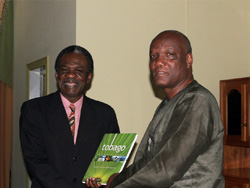 Resulting from one hour of frank discussions were more pledges to market Tobago to overseas destinations by another three of the nation's diplomats who are weeks away from taking up their new assignments.
High Commissioner designate to Nigeria, Nayahuma Obika; Ambassador designate to the United States of America and Mexico and Permanent Representative to the Organisation of American States (OAS) Dr Neil Parsan; and Consul General designate to Miami Dr Anil Ramnanan , during a courtesy call on THA Chief Secretary Orville London agreed that Tobago must benefit from this country's diplomatic relations with other territories and promised to place Tobago on the front burner of their duties.
In an interview after their meeting, Dr Parsan said it was clear that Mr London had a passion and commitment for the development of Tobago. He added "it is very clear to me that there is a need for us to have the requisite information in operationalising our commitment to you, which should be to bring an impactful level of investment and opportunities for tourism ideas and a level of financing."
Obika said one of his priorities will be to find ways in which Nigeria can be part of the Tobago Heritage Festival in 2011. He noted that this was in response to the THA's plea over the years for some level of in put from the African Continent in the yearly Heritage celebrations. "I think that those errors of the past…it is incumbent upon us not to repeat those errors of forgetting Tobago and the needs of Tobago," Obika said.
Dr Ramnanan said all three diplomats have been mandated to treat aggressively with the issues of trade, tourism and investments in their newest capacities and as such they look forward to responding to Mr London's challenge to assist in marketing Tobago 'in its own unique way'.
Responding to their affirmations Mr London said "I think what is very clear (and I was very happy) is that the three officials did accept that the Tobago situation does have some nuances which must be taken into consideration if it is to derive optimum benefit from its relationship with the countries to which they are being assigned."
He said they looked very carefully at how there could be put in place, structures that could give us some comfort level that this can be achieved.
Mr London said the recommendations were based on the issues and concerns put on the table and will give guidance both to the Ambassadors designate and Counsel General. He added that the recommendations will also guide and inform on ways that the THA can enrich its relationship with the respective High Commissions or the respective Embassies.
Mr London noted though that the test will be to see whether over the next few months they can all translate a very interesting conversation to the kind of activity that will benefit the people of Tobago in particular and the people of Trinidad and Tobago in general.