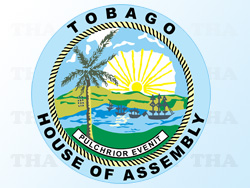 By the end of September, netballers and cricketers in Tobago will be able to play their sports into the night, thanks to a project to put lights in every recreation ground on the island.
The Division of Education, Youth Affairs, and Sport (DEYAS) has awarded contracts for lighting Tobago's playing fields, with work already started at 7 of 13 locations, including Mason Hall, Calder Hall, Shaw Park, and Moriah.
The lighting at Roxborough's playing field has been completed with the lighting levels facilitating net ball and night cricket. During last Wednesday's Post Executive Council Briefing, Assistant Secretary of the Division Huey Cadette promised, "All facilities will be lit by the end of September." In addition, registration forms for the THA Sports Camp will be available this week at various community centres, as well as the DEYAS office. The programme will run from July 16th through August 3, 2012. Children ages 7 to 17 will be able to participate in a number of sport disciplines, including football, netball, and swimming. Locations will include the Dwight Yoorke Stadium and the Mt. Pleasant Recreational Grounds.