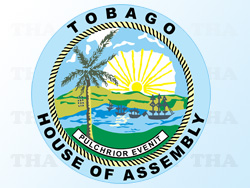 "Developing Tobagonians in a Developing Tobago: The Next Generation". This theme echoed through the 52 pages of the $4.318 billion 2013 Tobago budget request presented at a special sitting of the House of Assembly on Monday by Finance and Enterprise Development Secretary Dr Anselm London.
He recalled that he had participated in 12 THA budget presentations starting in 2001, and had actually delivered all but one over those years, adding that "much has changed in Tobago since 2001, not the least of all the physical infrastructure of this island that can now match any to be found across this nation and across the Caribbean region".
"In terms of the standard of living, Tobago has also changed; and changed quite significantly since 2001," Dr London said.
The Finance Secretary drew attention to the fact that this was the fourth and final budget presentation of the current session of the Assembly which ends in January and said much more had changed beyond the physical infrastructure and the standard of living of Tobagonians. He said precisely because of the progress that have been made, Tobago, in a perverse sense, is today reliving its experiences of the 17th and 18th centuries, when European colonial powers fought for control over its human and natural resources.
"However," he added, "unlike those former times, the colonizers now lie within, their only objective being to capture this prized territory from native Tobagonians like you and me." He said sadly enough, it was one thing to be invaded and enslaved from the outside but quite another to be subject to such invasion, conquest and enslavement by citizens of one's own country.
Stating that "we live in extremely dangerous times in Tobago", Dr London said the island was at a developmental and constitutional watershed that invoked the sad memory of certain events in our political history; events that threatened to rip the very fabric of this country apart.
"It can get worse, very worse, because we are engaged in a fundamental clash of cultures, customs, virtues and approaches to governance; and are witnesses to a political dispensation that has already consumed the other island of Trinidad and now seeks to spread its tentacles to devour Tobago and Tobagonians. We must endeavour to avoid this at all costs. Our strength, as Tobagonians lies in that indomitable Tobago spirit that has kept us over the years and that will be our guardian in the inevitable battles that lie ahead," Dr London said.

Download a copy of the budget here.