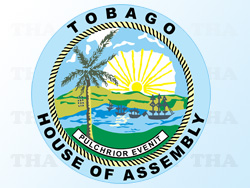 Chief Secretary Orville London has extended sincerest condolences to the family, friends and numerous admirers of Tobagonian actor and sportsman Rodill Clarke who died on Friday. (5th July 2013)
London who indicated that Clarke was a close personal friend said that throughout his 75 years, "Pargy" as he was affectionately known, contributed to the development of Tobago and its people, especially its young people, in numerous spheres.
He described Clarke as a naturally gifted sportsman who excelled in cricket and football. He was one of the country's most accomplished coaches in both disciplines and was one of the main architects in what can be described as the golden era in Tobago's youth cricket, in the 1980s.
"Clarke was also a trail blazer in the theatre arts and can lay claim as Tobago's finest actor who impressed fans with his portrayals even from his early years at Bishop's High School," London said.
London said his portrayal of Joshua Walker in the highly popular "Turn of the Tide" television series made him a household figure throughout the country and his stature was significantly enhanced by his roles in a number of films and commercials including the recently released "Happy Sad".
However, the Chief Secretary recalled, Clarke would best be remembered for the time, energy and passion he extended in nurturing young Tobagonians, whether on the playing field, on the stage or even in the communities.
"He was never too busy to share his expertise, experience and eminence talent with all sections of the population and therefore, although he will be missed and mourned, his influence and impact will be evident for a very long time," London added.
Funeral service for the late Rodill "Pargy" Clarke will be held at the Whim Anglican Church at 2 p.m. on Thursday. (11th July 2013)