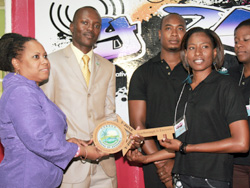 The first of seven Y-Zone Units catering for youth development was commissioned on Friday at Calder Hall, Scarborough by the Tobago House of Assembly (THA) Division of Community Development and Culture.
The Unit was built from cargo container which was reconditioned with all the utilities and fitted with eight computers at a cost of $275,000 for use by youths in the Scarborough area. Y-Zone will offer free computer facilities and training as well as counseling for those requiring it.
Speaking at the commissioning of the Y-Zone programme Chief Secretary Orville London urged the youths of Tobago to grasp the opportunities being provided to them by the Assembly since if they not do so others would come in and take advantage of them. He also described Friday as a good day for Scarborough/Calder Hall and also a good day for Tobago.
In photo Laura Pascall, (right) President of the Executive Council of the Scarborough/Calder Hall Y-Zone receives the symbolic key to the Unit from Secretary of Community Development and Culture, Councillor Dr Denise Tsoiafatt-Angus (left). On her left is Assistant Secretary of Community Development and Culture Assemblyman Ancil Dennis. Photo courtesy THA Information Dept.