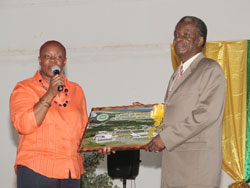 The Signal Hill Secondary School has finally gotten a multi-purpose hard court and gym.
The school which boasts of several prominent sportsmen and women, as well as music festival champions over its 36 years of existence had its two facilities commissioned on Monday (14th October 2013) by Chief Secretary Orville London.
The facilities were financed by Divisions of the THA, government agencies and the private sector in Tobago and in Trinidad and fund raisers organised by parents and teachers. After the ribbon cutting ceremony students of the school staged a demonstration/display of their aerobic skills in the new air-conditioned gym.
London who was a former principal of the institution paid tribute to its achievements over the years pointing out that it was the first secondary school in Tobago to have won a national scholarship. He also commended the principal and management of the school for transforming the vacant bushy parcel of land which was an eyesore to the hard court.
The Chief Secretary described the facilities as a modest investment with the promise of a healthy return and commended the school for its initiative. "It is not just about how it was done. There is one positive aspect of this whole exercise because it was an initiative of the institution, the institution in effect partnered with the Tobago House of Assembly. I volunteered the Assembly's participation and that joint initiative was able to bear fruit," he said.
London said he can state without fear of contradiction that there was no institution in Tobago that has successfully moulded minds as Signal Hill. He also urged the students to take pride in the colours of their uniform and wear it with pride.