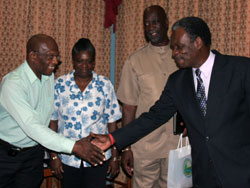 THA Chief Secretary Orville London has advised the Cipriani College of Labour and Cooperative Studies to do a rethink of what it was doing in Tobago.
"I just want to make a suggestion, I think there is need for a rethink as to exactly what you are doing in Tobago, is it business as usual, are you going up in competition with the others to see which one of you could have the fanciest building and put on the most attractive courses, knowing that one of you is going to fail or is it a matter of doing what you can do best, recognising that there are strengths in each of the institutions," he told top executives of the college at a recent meeting at his Calder Hall office.
"I just want to recommend that there might be a need for revisiting of the mindset and therefore for you to determine how you go forward," London added.
He made the statement after Cipriani's director Dr Ian Sakma Lemessy informed the meeting that he will be inviting the Chief Secretary to a sod turning ceremony for a new campus in a couple of months. The college is currently renting part of a building at Spring Garden.
However, London said he had two concerns about the arithmetic of this and explained that there were about 60,000 people in Tobago and his last count there were six to seven institutions offering post secondary education and all of them were in the survival business. "In order to survive," he added, you have to have clients and in order to have clients you have to have offerings that are attractive as possible and if you are dealing with the arithmetic the more offerings you have the more clients you are likely to have and therefore you are more likely to survive, my question is, is that the way to go."
The Chief Secretary said the Assembly had similar discussions with COSTATT, UWI, the University of the Southern Caribbean and UTT, all operating in Tobago, and there was a core subject offerings that was common to all of them because basically they will get the majority of people but there was very little specialisation.
"Everybody wants to be as big as they could be and in order to do that you have to offer as many areas as possible. I am saying there would come a time when the arithmetic is not going to work in favour of the administration because the numbers are not just there," he said.
London said the Assembly has been attempting in the last five years or so to get the institutions that offer post secondary education in Tobago to sit down to discuss the needs of the people and then identify what institutions were best suited to do what and then let the institutions provide that. He said this prevented competition and brought a certain degree of predictability.
He stressed: "You could turn the sod, build a nice campus building which COSTATT also intends to do, which is what the government intends to do with the integrated campus with UWI and UTT, which is what we wanted to do when we have the Tobago Technology Centre and the list goes on; basically we could end up with buildings which may or may not be maximised."
He said the Assembly had accepted in principle to have a University of Tobago which will be fleshed shortly in the House of Assembly. He explained that there will be a body which will take responsibility after discussing with the people of Tobago and the institutions in Tobago what were the needs of Tobagonians and then that body will take the responsibility of asking the unit or the institution best suited to provide those services or to deliver on those needs to do so at a price.
He added: "You will actually end up having a contractual arrangement with different institutions to provide specific courses and programmes and offerings, it makes it easier for the organisation because they know how they can produce, how they can provide, it makes it predictably in relationship to cost, you don't have situations where you have either classes that are over-subscribe or under –subscribe and it optimises the limited resources that we have both financial and otherwise."
However, Cipriani's chairman Joseph Remy assured that the college was not thinking about going in competition with the others but ensuring that it remained distinct and unique in terms of its offerings. "Distinct and unique in our case means the labour movement. How relevant is Cipriani to the labour movement over the years, how relevant is it in terms of developing persons to enter and change the face of the labour movement. Those are the things we have to examine as a Board."
Remy also assured that his Board was not going to take things and hand it down to the THA, that will not work, "we will want to work with the THA to determine how do we make Cipriani a part of the educational development of Tobago, the Tobago culture, the Tobago education system, the social structure and what role could we play in that".