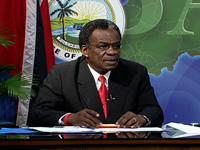 THA Chief Secretary Orville London has warned Tobagonians against bringing the "UNC brand of politics" to Tobago.
"We in Tobago have got to understand that we have a responsibility to maintain our Tobagoness and it is in that context that I want to express my distaste of the obscene behaviour of speakers on the TOP platform in recent weeks," he told Wednesday's weekly post Executive Council media briefing.
He said nobody expected a political platform to operate like a Sunday school but there was a minimal level of decency to which all Tobagonians should adhere. "When you are on a political platform hearing that the political leader is introduced with a calypso that treats with black people using the 'n' word something is wrong. When you are on a political platform listen to people making the most degrading and distasteful statements about their fellow Tobagonians, statements that have absolutely nothing to do with the politics but to demean and debase that is wrong. When you hear people on political platforms saying things that they know are not true, simply to get a laugh from the audience or belittle other Tobagonians that has to be wrong," London said.
The Tobago Chief Secretary said: "I am saying that we cannot bring the UNC brand of politics to Tobago, the scorched earth approach to politics which says anything goes and once you are against me I have a responsibility to try to destroy you and all you stand for. I am not saying this because we in the PNM are afraid of anything. I want to make it very clear that we recognise that the people who criticise us are not angels."
London gave the commitment to the people of Tobago that under his watch regardless of what information he might have or not have, PNM people and people in his administration and the executive council will not stoop to that because at the end of the day there was a price to pay.
He said as much as people were attempted to hit back, especially when they have ammunition to hit back, "we on this side are not going to do that because that is not the way that I have operated in politics throughout my entire life and I don't intend to start now".
London said he was particularly disappointed in Tobago West MP and Tobago Development Dr Delmon Baker, whom he described as "a young man, an intelligent man, a man who has come from a strong religious background". He added: "To listen to that young man and to listen to what he has become is disheartening, very disheartening and I want to urge Dr Baker to ask himself is this the image I want to portray, is this how I want to be remembered, is this the example I want to set."
The Tobago Chief Secretary said he also wanted to send out a word of caution to new Justice Minister Christlyn Moore who addressed a TOP political meeting last Sunday, adding that she came back to Tobago after not being around for 20 years and rather than reintroduce herself to the people of Tobago and even make some apology for deserting them for so long she "comes across as a female version of Anand Ramlogan, spouting threats throughout her entire speech, believing that that will endear her to Tobagonians".
London said Moore may have forgotten and wanted to reacquaint her with the facts that Tobagonians do not respond like that, "that is not the Tobago way of doing things, it might be the UNC way of doing things, it might be the Anand Ramlogan way of doing things but it is not the Tobago way of doing things".
He said Moore was sufficiently intelligent and had sufficient time to recognise that maybe she should try another way of endearing herself to Tobagonians and to really treat with issues rather than personal vilification.
He said Tobagonians have got to understand what the signals meant for the future of Tobago. "We (are) into a different era, we (are) into a different way of doing things and we have got to ask ourselves if that is the Tobago way of life, if that is the Tobago way of life then we accept it, if that is not then we have no choice but to reject it," London added.