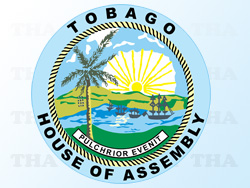 Chief Secretary Orville London has praised the organisers and participants of the recent THA Schools/Youth Music Festival.
He noted that the Tobago Music Festival was a new initiative introduced because of the challenges of the national music festival. It climaxed with a festival finale and the presentation of trophies at the Magdalena Grand Beach and Golf Resort on 23 March.
London said he was really impressed with a number of things about the festival, including the high turnout number of participants, with 600 from all over Tobago. He said he understood that almost every student in the Charlotteville Methodist School were members of the school choir.
He said that the quality of the performances obviously not only showcased the talent but also the dedicated hours put in by teachers, music teachers and parents.
The Chief Secretary added that when he thought of the number of events and categories that took place and the devotion and commitment of the committee, it made him feel proud to be a Tobagonian. "I want to congratulate the committee, the Divisions of Education, Youth Affairs and Sport, and Community Development and Culture, the teachers, and especially the participants. One of the most positive aspects of this festival was that they did it all for trophies and for the satisfaction of performing and being appreciated for their performances," he said.