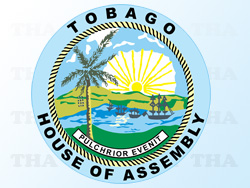 Executive members of trade unions with branches in Tobago attended last Thursday's (March 27 2014) plenary sitting of the Tobago House of Assembly. They were there to support a motion calling for labour to be added as a fifth schedule item in the list of matters for which the THA is responsible.
The labour representatives were members of the Trinidad and Tobago Unified Teachers Association, the National Union of Government and Federated Workers, the Public Services Association, and the Oilfield Workers Trade Union.
In moving the motion, newly appointed Settlements and Labour Secretary Deon Isaac stated that historically, the portfolio of labour was an item for which the Assembly was responsible under Act No 37 of 1980 but this was repealed and replaced by the Act No 40 of 1996, leaving out labour as a fifth schedule item.
He explained that labour inspectors have no legal authority under the law and therefore had to rely on moral persuasion in certain situations such as inspections, the issuance of unresolved certificates, strikes and lockouts, and were unable to use certain legal tools under the Industrial Relations Act – as the Labour Minister has been able to do – for the maintenance and preservation of industrial peace and economic stability.
Isaac said that despite these administrative and legal limitations the Division of Labour and Settlements has been able to carry out auxiliary, mediation and advisory services with employers and employees from 1980 to the present date.
He pointed out that the division has gained legitimacy and considerable respect and experience in the exercise of its function and socio-political responsibilities to the people of Tobago, and in particular, employers and employees.
In arguing for the inclusion of labour in the fifth schedule, Isaac said the Division of Labour and Settlements was a data-driven entity in its undertakings in industrial relations and manpower services, and that all sectors in Tobago and the various divisions of the Assembly rely on it for effective planning, forecasting and policy development.
Assemblyman Huey Cadette, now Secretary of Education, Youth Affairs and Sport, who was replaced by Isaac, said the Division of Labour and Settlements was not only constrained by legislation but also by parliamentary allocation, but despite these shortcomings it has been able to do its work and develop programmes in the interest of Tobagonians.