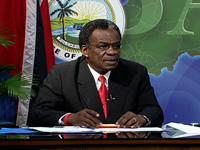 THA Chief Secretary Orville London is calling on Canaan/Bon Accord Assemblyman Rolly Quaccoo to make a personal apology to the people of Tobago for telling an untruth in the T&TEC power line controversy in his electoral district.
London said the Assembly viewed this as serious business. "We are all in politics but I don't think that being in politics mean that we have to be disingenuous or dishonest," he told the weekly post Executive Council media briefing on Thursday.
He recalled that he spoke to the Tobago Manager of T&TEC the day before on the matter and was told that Curtis Harry, the Corporate Communications Assistant and Jared Colas, the Engineer attempted to meet with Quaccoo who indicated to them that they had come too early and therefore he had to write for an appointment. London said they got that appointment on February 1 and when they did meet they would have indicated to Quaccoo exactly what was to be done, including the fact that the poles were going to be planted on the school compound.
London said he was told that Quaccoo's only comment at the meeting was whether the line could be moved from one side of the road to the other. They indicated that that would have been impossible because there were already lines on that side and Quaccoo did not raise any further objections.
Quaccoo had accused the Chief Secretary of knowing what was going on in relationship to the siltation in Canaan/Bon Accord with the T&TEC line and that he was responsible.
London said what was going on at or what went on at Canaan/Bon Accord was not tenable and "I think that both Mr. Quaccoo and I will agree that something has to be done about it but it is not an opportunity for us to make politics, it is not opportunity for us to denigrate each other.
The Chief Secretary said the T&TEC Manager had indicated that the poles will not be planted at the school. He said he also discussed with the manager the trees that were cut along Milford Road to accommodate the lines and was told that the commission will undertake a replanting exercise in the area.
London said one of the things that came out of that discussion was the need for more communication, more effective communication at all levels – at the policy level and at the operational level. He added that was an admission that that quality of communication did not take place and that was what would have led to the some of the challenges.