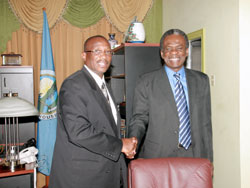 Two separate working committees have been appointed to determine whether there should be a second Carnival in Tobago in October this year or whether that Carnival should be a replacement Carnival or an additional Carnival, THA Chief Secretary Orville London disclosed on Monday. (28th February 2011)
He said the committees will also consider if the decision was made to have a replacement or an additional Carnival and when it should be held.
"Those two committees ought to be looking at the concerns, the advantages and all the issues that will impact on the type of Carnival that you would have if the decision is made to have a Carnival in Tobago," London told reporters following a two-hour meeting with Arts and Multiculturalism Minister Winston "Gypsy" Peters at the Calder Hall Administrative Complex.
The committees have been asked to present their reports at the next meeting to be held in April.
London said they had very interesting and very productive discussions, adding that the Minister had put everything in perspective when he indicated to him very early that he meant no disrespect based on statements made and postures taken over the past couple weeks. He said this immediately put the discussion in perspective and "we were able to conduct the discussion in a very professional manner, a very cordial manner and of course it was extremely productive".
He said from the decisions it has been recognised that none of the issues has in fact been determined and the committees will consult with the experts, the people in the field, and the various stakeholders to have their point of view and it was only after that that they can then have the discussions. He added that those discussions will determine the Assembly's position and the Assembly's decision as to the whole issue of Carnival.
The THA Chief Secretary commended the Minister for his passion in relationship to this particular issue and hoped that they we will continue the discussion in a mutually respectful environment that was evident at the meeting. "I really hope we would be able to take it from here to another level where we can get some determination on this initially contentious issue, London added.
In response Minister Peters echoed the sentiments of the Chief Secretary saying that the talks were productive and he was looking for a way forward.
He added: "We are going to ensure that the committees come up with the implementation plans and what have you, and if there is to be what it is supposed to be."
Peters said he told London that he did not mean to disrespect him by his premature utterances of Tobago hosting an October Carnival.