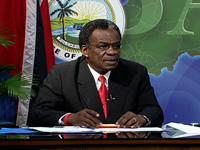 THA Chief Secretary Orville London has reiterated his call for a separate crime plan for Tobago.
He argued that the circumstances in Tobago were significantly different to Trinidad and should not be seen as similar to or an appendage to it especially at this time when the tourism sector was under threat.
London who was speaking at last Friday's stop of the T&T Police Caravan on the Milford Esplanade, Scarborough added that he was concerned that the Commissioner of Police Stephen Williams had said crime in Tobago was on the increase and was also in full support of the commitment by the police for a sustained approach to crime prevention in Tobago involving community groups and closer interaction with residents in the communities.
While expressing his full support for the Caravan London stressed that a successful crime plan in Tobago must involve all the entities including the coast guard, army, port authority, airports authority other uniformed groups, religious organisations, non-governmental organisations and the people.
London also recommended that the Tobago crime statistics should be dis-aggregated from Trinidad as an island because the image of Tobago as a tourism destination was being negatively impacted upon by the perception that the crime situation in Trinidad was the same as that of Tobago.
In closing the Tobago Chief Secretary pledged the Assembly's continued cooperation and collaboration with other agencies in the fight against crime.