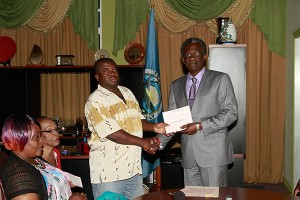 Tobago House of Assembly Chief Secretary Orville London said grants to social work and volunteer organisations and individuals are an investment in the people of Tobago.
London made this statement on Tuesday (September 15, 2015) while distributing over $160,000 in grants to ten organisations and individuals on the island.
This included funds for churches and football organisations, and also to cover medical expenses and the construction of a home.
In presenting the cheques at his office at the Calder Hall Administrative Complex, the Chief Secretary said: "We in the Tobago House of Assembly believe that we have a responsibility to use the resources of the Assembly to assist individuals and organisations, especially those whose work impacts on the people they serve.
"This is why we make contributions to organisations like yours, whose activities we support. We really believe those activities support our goals and our objectives."
He also congratulated them for working to benefit Tobago.
London noted that such activities, whether tourism-related, religious or otherwise, require a great deal of sacrifice from a special kind of individual, and must be encouraged.
"I want you to see what is being offered today as not a gift but an investment in the future of our people. It is not London's money; it is not even the Assembly's money, but the resources of the people of Tobago, which we are investing through you in the people of Tobago," he said.