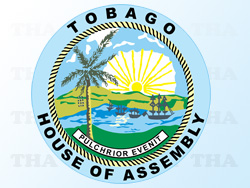 THA Chief Secretary Orville London says Secretary for Infrastructure and Public Utilities, Hilton Sandy cannot speak and cannot move his right side. This follows a stroke which he suffered on Saturday 21st September.
Mr. London was addressing members of the Assembly Legislature today, (Thursday 26th September) where he gave a full statement on Mr. Sandy's condition.
Mr. London says a report was submitted to Secretary for Health, Claudia Groome-Duke by the Scarborough General Hospital's Medical Chief of Staff, Dr. Nathaniel Duke.
The report says Mr. Sandy showed signs of a left-sided stroke affecting the right side of his body on the morning of Saturday 21st September. A CAT scan showed that a blood clot was detected in the left side of his brain. Medication was administered and Mr. Sandy was taken to the Intensive Care Unit. He was transferred to the Medical Ward after twenty four (24) hours, where he is still classified in critical but stable condition.
"Mr. Sandy is awake, alert and recognizing persons around him, however he cannot speak and cannot move the right side of his body. The stroke affected the left frontal and left temporal areas of his brain, which affect his speech, personality and high-level thinking."
Mr. London continued that a neurosurgeon at the Port of Spain General Hospital has been in constant contact with Mr. Sandy's doctors and while a blockage was detected in his left artery, the neurosurgeon has advised against surgery at this time.
"Mr. Sandy is expected to receive speech therapy and is continuing to receive an international standard of care. There is as yet no schedule for his discharge, however the Secretary for Health and the medical staff at the hospital have been liaising with Mr. Sandy's wife, Candace Chang Sandy relating to his care once he is released from the hospital."
The Chief Secretary says Mr. Sandy will be unable to function as Secretary of the DIPU and as Representative for Roxborough/Delaford for an indefinite period, therefore the following interim measures have been put in place:
Mr. London, Deputy Chief Secretary Tracy Davidson-Celestine and Secretary for Education Gary Melville will alternate liaising with the constituents of Roxborough/Delaford to ensure continuity. The public days will now be every Friday, beginning on Friday 4th October, 2013, when Mr. London will be at the Roxborough District Office from 8:30 a.m.
Mr. London can be reached at 639-2696 or 639-3688. Additionally he can be reached via email on chesec@tstt.net.tt
Mrs. Tracy Davidson-Celestine can be reached at 639-5126 and sec.celestine@yahoo.com
Mr. Gary Melville can be reached at 639-4137 and melomelville@yahoo.com