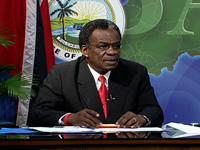 THA Chief Secretary Orville London will participate in a panel discussion on Trinidad and Tobago's Independence in Toronto, Canada on Saturday (25th August 2012) at the Westin Harbour Castle Hotel. Other members of the panel will be former prime minister Basdeo Panday and former vice president of the Senate Canute Spencer.
The discussion is part of the 50th Anniversary of Trinidad and Tobago Independence celebrations organised by the Toronto-based Trinidad and Tobago Heritage Group (TTHG). The topic for discussion will be the "Achievements of Trinidad and Tobago over the last 50 years" as well as a "Tribute to former prime minister Dr Eric Williams on his contribution and legacy to the nation". London will speak on the "Tobago perspective to the whole Independence movement".
While in Toronto the Chief Secretary will also meet with representatives of the Tobagonian Diaspora and the Canadian Cultural Association before returning to Trinidad and Tobago on Sunday. During his absence Deputy Chief Secretary Assemblyman Hilton Sandy will perform the duties of Chief Secretary in addition to his portfolio of Secretary of Infrastructure and Public Utilities.