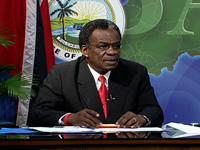 Chief Secretary Orville London has reiterated that the Executive Council of the Tobago House of Assembly (THA) has not taken a decision to engage the services of former secretary of finance and enterprise development Dr Anselm London as a special consultant in the Division of Finance and Enterprise Development.
London explained that similar to the way decisions are made by Cabinet, a Secretary would bring a Note to the Executive Council for action to be taken on a particular issue; the Note will then be approved with or without amendment if the Executive Council is in favour of the request.
He said the Note has to be considered by the Executive Council a second time and then confirmed before it becomes an instruction to carry out the respective decision. He further explained that Notes can be deferred at either stage if for any reason the Executive Council is unable to reach consensus on the matter; and that at either stage, a Note is withdrawn if the Executive Council is unable to sanction the request.
London stressed that the Note for the engagement of Dr London was deferred on three separate occasions at the confirmation stage because while Dr London is eminently qualified for the position members of the Executive Council had some reservations. Consequently the deferred Note will still be on the agenda for the deliberation of the Executive Council at its next meeting.
He noted that although the public debate was instructive it could be considered pre-mature and even unfair that the Executive Council should be chastised for taking a decision that has not yet been made. However, he gave the assurance that his administration will continue to be mindful of its responsibility to the public in any decision-making process.