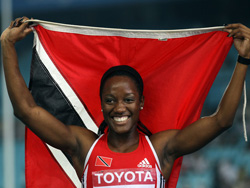 THA Chief Secretary Orville London has congratulated sprint queen Tobago-born Kelly-Ann Baptiste on her performance at the Jamaica International Invitational in Kingston last Saturday.
Baptiste came second clocking her fastest time for the year of 10.86 behind American Carmelita Jeter who won the 100m event in 10.81. London said this was Baptiste's second fastest time in her career and augurs well for her performance in the coming London Olympics. "By her performance in Jamaica Kelly Ann has indicated very clearly that she is going to be among the favourites for a medal at the London Olympics," he said.
The Tobagonian's performance has earned her the second spot in the latest IAAF World Outdoor women's 100m Rankings. The 2011 World Championships bronze medalist is the only sprinter to beat Baptiste in 2011 and took the world title in Daegu, South Korea last year where Baptiste was third.
The national 100 and 200m record holder was 0.02 seconds off her national mark of 10.84 set in 2010. She is one of six national athletes in the top ten in their events.
London said Renny Quow continues to be consistent, coming second to Calvin Smith in a time of 45.48 and obviously has to improve on that. The Chief Secretary said Quow showed his fast finishing and was hopeful that in that highly competitive quarter mile he can in fact medal at the Olympics as he medalled at the World Championships. "Things are looking up for us in the athletic field as we continue to demonstrate that even a small island like Tobago can in fact compete among the best in the world
London disclosed that Quow would be in Tobago later this month when the THA in collaboration with bpTT, sponsors of the national team to the Olympics and the National Olympics Committee will show appreciation to him.
Quow's performance of 45.48 at the Jamaica Internationals has earned him the 15th spot in the men's 400m IAAF Rankings while Josanne Lucas is at 30th in the women's 100m hurdles with 13.10. The two times are Olympic B qualifying times. Lucas is also at 74th in the women's 400m hurdles with 58.07 seconds.
Semoy Hackett is currently in 54th position in the women's 100m standings clocking 11.39 seconds.