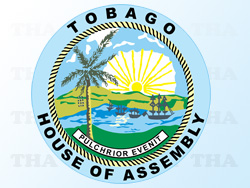 Chief Secretary Orville London is calling on Prime Minister Kamla Persad-Bissessar to immediately revoke the appointment of the Minister of Tobago Development, Dr. Delmon Baker.
At a media conference in his office at the Administrative Complex in Calder Hall, Tobago, London cited Baker's "recent reckless, insensitive, disrespectful behaviour" as his reasons for the call, which he said disqualifies Baker from being a Minister or a representative of Tobago.
London referred to Baker's damaging comments that appeared on the front page of a local weekly on February 11th, where the Minister said it was "easier to be shot dead in Tobago than in Trinidad". The Chief Secretary subsequently wrote to Baker asking him to rescind the statement and apologise because of the "deleterious" impact it was having on Tobago's tourism, image and consequently, its economy.
The Chief Secretary pointed out that statistics from the police service contradict Baker's assertion. The Tobago Division was awarded for outstanding performances in the reduction of serious crime in 2014, he said. He added that out of close to 400 murders in Trinidad and Tobago, only eight occurred in Tobago, of which only three were gun-related.
Further, London pointed out that according to police statistics, serious crime dropped by 39 percent on the island, and the number of crimes against visitors fell by 69 percent last year. This was confirmed in recent months by former National Security Minister Gary Griffith, as well as Commissioner of Police Stephen Williams and Permanent Secretary in the Ministry of National Security Carl Francis.
He said Baker stated he got his information from Cabinet, but questioned Baker's source, as both acting Assistant Commissioner of Police Garfield Moore and his predecessor Earl Gonzales confirmed that there is no merit to Baker's statement.
In another media report, Baker indicated that he stood by his initial statement, and promised to make further comments to support what he said.
London said that potential visitors reading statements by the Minister of Tobago Development could do serious harm to Tobago, especially given the currently high incidence of serious crimes in the country.
"Can you imagine the impact of that?" London asked. "All I'm asking Dr. Baker to do is to alleviate it. We can't eradicate it immediately, but let us try to alleviate it so that over a period of time, this besmirching of our reputation would in fact be alleviated."
London revealed that Baker responded to his request by returning the original letter to the Office of the Chief Secretary.
"In my 20 years of political life, I have never had such an insulting response," London stated. "But this is not about me. This is about a representative and the contempt he has demonstrated for his people."
"And I cannot see how an individual like that, who is prepared to undermine Tobago's development and who is so arrogant that he is not prepared to apologise so that his mistake can in fact be rectified, how somebody like that could deserve either to be a representative of Tobago or a Minister of Tobago Development."
The Chief Secretary further called on the people of Baker's constituency, Tobago West, and by extension the rest of Tobago, to reject the Minister as their representative.
London said he has not written to Prime Minister Kamla Persad-Bissessar on the matter.
"I'm hoping that the Prime Minister will get the information and if I don't get any response I will definitely send a formal request. I think it was sufficiently urgent," London said. "This is not primarily about the Prime Minister. This is about the people of Tobago and the need for the people of Tobago to know how they are being represented, or maybe misrepresented."