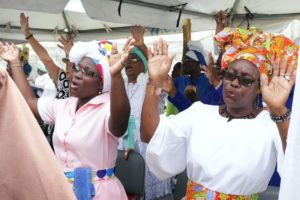 The Tobago United Spiritual Baptist Assembly held its annual celebrations in commemoration of Spiritual Baptist Liberation Day on Saturday (March 30, 2019). The celebrations began with a procession from Orange Hill junction to their headquarters in Signal Hill.
The Spiritual Baptists celebrated their freedom to practice their faith in Trinidad and Tobago.
"Your legacy will encourage many, Baptist and non-Baptist to rise up from oppression, imposed limitations and curtailed freedom…into an object of admiration, strength, courage and beauty," THA Chief Secretary Kelvin Charles said.
In his message to the community, Charles said though the journey is remembered, "in spite of, we have risen, we have achieved, and we move forward in faith and confidence."
Spiritual Baptist Liberation Day is a national public holiday that commemorates the repeal on March 30, 1951 of the 1917 Shouter Prohibition Ordinance that prohibited the activities of the Spiritual Baptist faith.