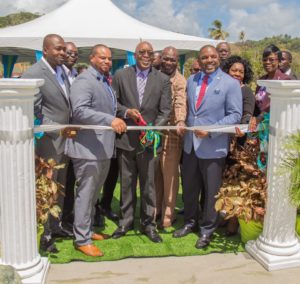 Chief Secretary Kelvin Charles sees good signs for Tobago's construction industry with the commissioning of the Barbados Bay Jetty.
The Jetty, located at Studley Park, was commissioned on Thursday (February 7) after the project was completed at a cost of $4.6 million.
Approximately $1.5 million in revenue was generated from the first three shipments of aggregate leaving the Jetty. The aggregate was produced from the nearby Studley Park Quarry. Charles said the supply and demand for Tobago's aggregate is good.
"This facility will facilitate the berthing of barges for the transportation and export of aggregate, and it will also facilitate the importation and offloading of construction material, like sand and cement, for Tobago businesses," Charles said.
The quarry received its first barge in 15 years on January 26. According to the Chief Secretary, it has since exported over 2,200 metric tonnes of aggregate material.
Charles said demand for Tobago's armoured rock is also high.
"We have confirmed for shipment over 150,000 metric tonnes," he stated. "The rehabilitation of this facility represents the evolution of an idea. It is another step towards the journey of economic transformation of the economy of Tobago."