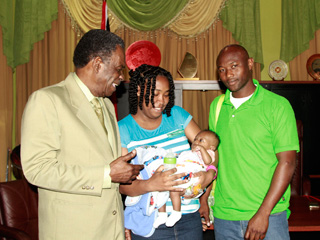 Darrel and Aldensia Frank are the proud and happy parents of Baby Darius, who turns three months old tomorrow (March 25, 2015).
They will celebrate that milestone with Darius knowing that he has a new lease on life, having recovered from life-saving surgery in Colombia, which the new-born underwent when he was little more than two weeks old.
Sitting in front of their Concordia Village, Tobago home, with Darius curled up in his father's arms, the couple said they were very grateful to have the gift of their son—who was born on Christmas Day—home with them.
They first learned about the baby's need for urgent surgery at the Eric Williams Medical Sciences Complex in Mount Hope. After Darius was born at Scarborough General Hospital, doctors observed that he was having difficulty breathing. He and his father were then air-lifted to Trinidad via helicopter for further tests.
He was diagnosed with atrial septal defect, a condition where there is a hole in the wall between the atria—the two upper chambers of the heart. The surgery could not be performed in Trinidad and Tobago, so the family applied to the Children's Life Fund for financial assistance to make the trip.
"The Children's Life Fund caters for the baby and the mommy (to accompany him) to do the surgery," Frank explained.
That still meant Frank needed to secure his own passage to join his family in Bogota, Colombia, who would be away for over a month. If he could not accompany his family, it meant his wife would have to go through the ordeal on her own with their baby.
"I had to seek financial assistance," Frank said. He went to see Chief Secretary Orville London.
"I wrote a letter informing him of the situation and asking him for some sort of financial assistance, which I find was speedily done. The same day I wrote the letter in the morning, I got the funds in the evening to help me with my travel abroad and back."
The surgery was conducted at the Cardioinfantil Foundation – Institute of Cardiology.
"The surgery was well done and here Darius is, you could say, living a second life. We really thank God and our family for their prayers and faith, and for bringing us this far," Frank said.
On Monday, the family paid a courtesy call to the Office of the Chief Secretary at the Administrative Complex in Calder Hall, and Darius brought smiles throughout as they thanked London for his swift reaction in their time of need.
The Chief Secretary congratulated the couple and wished them the best.
London said: "A new-born baby always reminds us how important and precious life is. I'm delighted to see that the surgery was successful and that the family can have a future with their son."