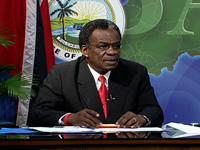 THA Chief Secretary Orville London has commissioned a reputable accounting firm to audit his finances he received from the Assembly for the past 12 years.
He said when the audited report was received he would make it available to the public.
London has taken this course of action following allegations of corruption leveled against him by his detractors seeking to unseat him in the next THA election due by January 25 2012.
The Chief Secretary said he had a responsibility to himself, his family and to all those who have some respect for him as well as all those whom he trusted and those who trusted him to ensure that the efforts made to vilify him and to attack his integrity that those efforts fail.
He added that regardless of anything else he had that personal responsibility and "I owe it to myself to ensure that this exercise is completed and completed to the satisfaction of the public of Tobago and by extension the public of Trinidad".