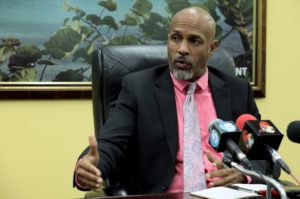 Not since pro-footballer Dwight Yorke, has a Tobagonian athlete been sought by a leading football club.
Secretary of the Division of Sport and Youth Affairs, Jomo Pitt, said he recently visited the UK to engage in talks with members of the Leicester City Football Club Youth Academy towards their participation in an Under-18 international tournament spearheaded by the Division and the Tobago Football Association.
"The premise behind it is to allow young players in Tobago and the region to have the opportunity to be scouted by Leicester City or any academy, as a pathway to a career in professional football," Pitt said.
"Since the discovery of Dwight Yorke, we've never had another person from Tobago scouted by a premier team," Pitt said during Wednesday's post Executive Council media briefing. "I hope this launches off a predictable pathway for youngsters who are interested in becoming professional footballers."
The Sport Secretary said the discussion was favourable and a committee had been instated to organize the tournament, which would ideally be held in July.