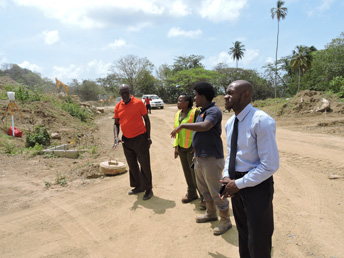 By the end of August, 62 townhouses at Adventure Phase II in Plymouth will be ready for distribution to the public.
Secretary for the Division of Settlements and Labour Deon Isaac stated this during a site visit to the area last week. The Secretary viewed the progress of the project through virtual images provided by a camera drone.
Isaac said the work is on schedule, and revealed that a completed model unit will allow selected homeowners to see what the townhouses will look like before they are done.
Isaac said: "We're hoping that it's completed before August, but what is particularly unique about this phase is that we have a model unit about this stage completed here on this end. We want to have all the potential homeowners walk through this model unit, look at it, agree on it, sign off on it and then go off to their financial institutions."
The Division is also working on making other housing units available.
"In the new fiscal year we can certainly look forward to the completion of this phase, and then we want to look forward to Adelphi at Mason Hall."