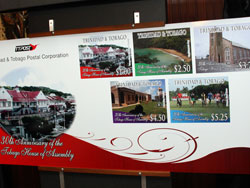 A special issue of stamps to commemorate the 30th Anniversary of the reinstated Tobago House of Assembly (THA) will go on sale early next year.
Five denominations of the issue were unveiled on Monday at a ceremony at the Mount Irvine Bay Hotel. The denominations are $1.00 (THA Legislature Building), $2.50 (Englishman's Bay), $3.75 (St Patrick's Anglican Church), $4.50 (Fort King George) and $5.25 (Goat Racing). The colour photographs for the stamps were supplied by the THA.
Trinidad and Tobago Postal Corporation (TTPost) Managing Director Sheldon Cyrus described the achievement as a significant milestone that will further assist in putting Tobago on the world map and encourage visitors to the island. He said this stamp collection was carefully selected to tell the story of Tobago's rich historical heritage.
THA Chief Secretary Mr. Orville London commended TTPost for the timeliness and quick response to a request from the Assembly for the special issue. He said the Assembly's relationship with TTPost had brought significant benefits to Tobago, gone were the days when one had to go to the post office or agency to collect mail. He added that approximately 96 per cent of Tobago was served by TTPost delivery service, which was way above the international average.
He said this could have only been achieved through mutual respect for each other and hoped that other agencies would take example.
Mr. London said the stamps would serve as a lasting message that would be carried forward hopefully very far and very long, adding that it would ensure Tobago's history, Tobago beauty, Tobago's ambience were sent out to people over time and over national boundaries. He said it would also serve to sensitise the island, the country and the world about something all of Tobago can be proud, and that was its history, culture and heritage.