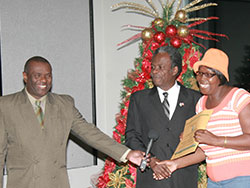 "It's nice to have something that counts as your own," Anita Forbes said.
Forbes and twelve other persons received an early Christmas present with the distribution of leases for land located on the Adelphi Estate in Mason Hall. Tobago House of Assembly (THA) Chief Secretary Orville London distributed the leases on Friday (December 21, 2012) after recipients were informed on Tuesday.
"I've been living there since 1964. My father lived there before me," Forbes said.
"Land is about passing it on to future generations," Harold Lewis said. "It certainly belongs to the heritage of a family." Lewis' family had occupied land on the estate for 40 years, while other recipients had lived on the land for 50 years.
Lease recipients included Evelyn Johnson, Shirley-Anne Jones, Irington Henry, Jerina Celestine, Lorna Verolyn Douglas-Sebro and Giselle Edwards-Brooks, Alexander Cato, Emryl Legall, Anita Forbes, Eunis Forbes and Beverly Forbes-Joseph, Denise Linsay, Uric Lincoln Franklyn, Daniel Franklyn, Gail Franklyn and Kenneth Patrick, Harold Lewis, Reynold Jones and Roachford Spencer.
Regarding handing over the leases, London said, "Every time I do this I get a feeling of gratification. That's what this job is about, what you can do to improve the quality of life of the people that you serve."
The 49-acre Adelphi Estate was purchased by the THA in 2008 for an estimated $13 million. To date, 77 of the 208 plots of land have been distributed.
London told the recipients that it was important that ownership of the land is passed onto future generations. "You've got to ensure that the purpose for which we invested in this land is not undermined. We did not invest in the land for you to give it away."
Ownership of the land now provides recipients with opportunities they did not have before. The 199-years lease is transferable to the recipient's children and allows them to complete transactions, including taking out a mortgage.
"Make sure the next generation of Adelphi people get to benefit," London reiterated before the leases were given out.
The distribution took place at the Studio, Office of the Chief Secretary in Calder Hall.