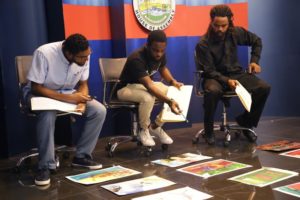 Judging of the Chief Secretary's 8th Annual Secondary Schools' Art Competition 2019 took place on Saturday 26th October at the Office of the Chief Secretary's Television Studio. Forty-two entries were received.
The art pieces were judged by artists, Dion Jacob, Shonari Richardson and Bryan Jordan in two categories: Juniors – 1st to 3rd form and Seniors – 4th to 6th form. The judges selected the top twelve, whose art pieces will be featured in the Chief Secretary's 2020 Calendar.
The winners will be announced at a prize-giving ceremony on Thursday 12th December, 2019.