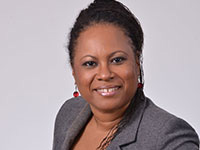 Ten Tobago Calypsonians journeying to Skinner Park for Calypso Fiesta, Calypso Monarch Semi-Finals at Skinner Park, on Saturday February 7th 2015, will not go empty handed.
Cheques totaling $110 Thousand Dollars, ($110K) were distributed by Secretary Dr Denise Tsoiafatt-Angus, Friday February 6th, courtesy the Division of Community Development and Culture.
Two Junior Calypsonians, who also qualified to compete at the Junior Calypso Monarch Finals on Monday 9th February, are also the recipients of Grants courtesy the Division.
Secretary Tsoiafatt-Angus expressed her pride in the Calypsonians, whom she noted have placed Tobago on the map. She described as "a significant achievement.. for ten persons to be selected to perform, with one Reserve at Calypso Fiesta and two Juniors, from Bishop's High School, who will represent Tobago, at the Junior Calypso Monarch Finals."
Highlighting that it was the first time she had the opportunity to attend the performances at two large Tents, Tsoiafatt- Angus noted that though she is no judge, she does know lyrical content and enjoyed herself to the fullest. "With ten persons going forward, the Division thought we should do something for everyone, who could have tried to access funding through our Financial Unit."
Each Senior Calypsonian received Ten Thousand Dollars, ($10K) while the Junior Calypsonians received Five Thousand Dollars, ($5K) with access to an additional Twenty Five Hundred Dollars, ($2,500) to be provided to assist at least twelve persons to make up a support contingent.
According to the Secretary, "the Grants are to assist with costuming, props and other essentials, as well as for supporters for the Calypsonians, since they are performing on a National level and need every encouragement to do their best."
Tsoiafatt-Angus called on the Calypsonians to inspire the youths through the writing of their songs, as she highlighted that history is being made, with two generations represented, through Leslie-Ann Ellis and her Daughter Garve' Sandy and Sherwin Cunningham and his daughter She' Ann Cunningham.
Senior Calypsonians present, expressed their thanks, at what they described as "a pleasant surprise." Kenneth Thomas also known as 'Punchin' extended gratitude, on behalf of fellow Calypsonians and also in his capacity as Treasurer of the Trinbago Unified Calypso Organization – T.U.C.O, Tobago Zone. He lauded the Grants as "a magnificent contribution," sharing that he had already begun budgeting. Ms. Dalanie Baynes a.k.a. Lady Bayne, was also well pleased and announced that she was proud to represent Tobago, vowing to do her best.
Lornette Nedd aka. Fya Empress, recollected that last year nothing of this nature was received and gestures like this she expressed, "would keep the Calypso art form alive." Wendell Frederick better known as 'Xcite' was in awe, as he said, "thank you."
A very high standard of Calypsoes in 2015 coming out of Tobago, has facilitated this milestone participation of Calypsonians at this year's National Competitions.
The Secretary, Assistant Secretary, Administrator and Staff of the Division of Community Development and Culture, say Bon Voyage… for a rewarding and successful experience, to all our Calypsonians, on behalf of the Tobago House of Assembly and the people of Tobago.