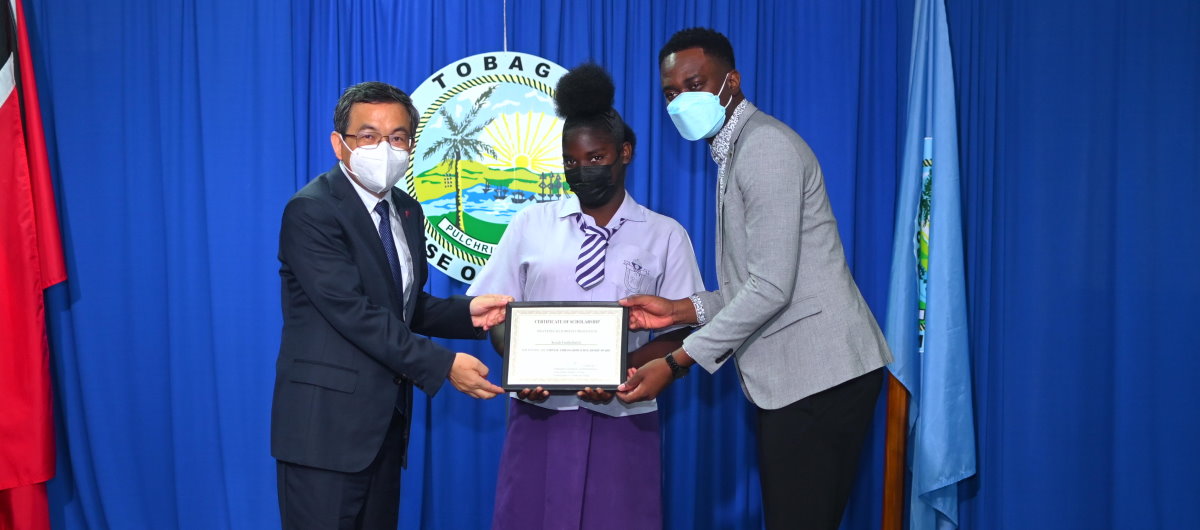 Three Tobago students have gotten some well-earned support in the form of scholarships courtesy the Embassy of the People's Republic of China.
The trio are Form Three students Jenna Dick of Signal Hill Secondary School and Keziah Cumberbatch of Roxborough Secondary School, along with Jahlil Baynes, a Standard Three student of Montgomery Government Primary School. They were each presented with $5,000 in scholarships by Ambassador of the People's Republic of China to the Republic of Trinidad and Tobago, His Excellency Fang Qiu, this week.
The awards were made to lower school students who exhibited diligence and determination on their academic journey. The funds will contribute to each student's academic advancement. It is also a sign for Tobago students that hard work and consistency can bring opportunities beyond the Tobago House of Assembly.
"May this achievement encourage you to work even harder…I believe that you will be the pillars of the nation through your future endeavours," the Ambassador said.
The Division of Education, Research and Technology stated that it is "…pleased to celebrate this historic milestone, which undoubtedly solidifies collaborative pursuits between Trinidad and Tobago and China".
Chief Secretary-Tobago Hon. Farley Augustine is proud of the students' achievement.
"We're here to support our young charges, and as a demonstration of goodwill, the People's Republic of China is bestowing upon these young people a starting scholarship. In this initiative, there is a commitment that once you students continue to excel, the People's Republic of China, through its Embassy, will continue to support your academic endeavours," the Chief Secretary said.
The event took place at Victor E. Bruce Financial Complex in Scarborough.