OCTOBER IS BREAST CANCER AWARENESS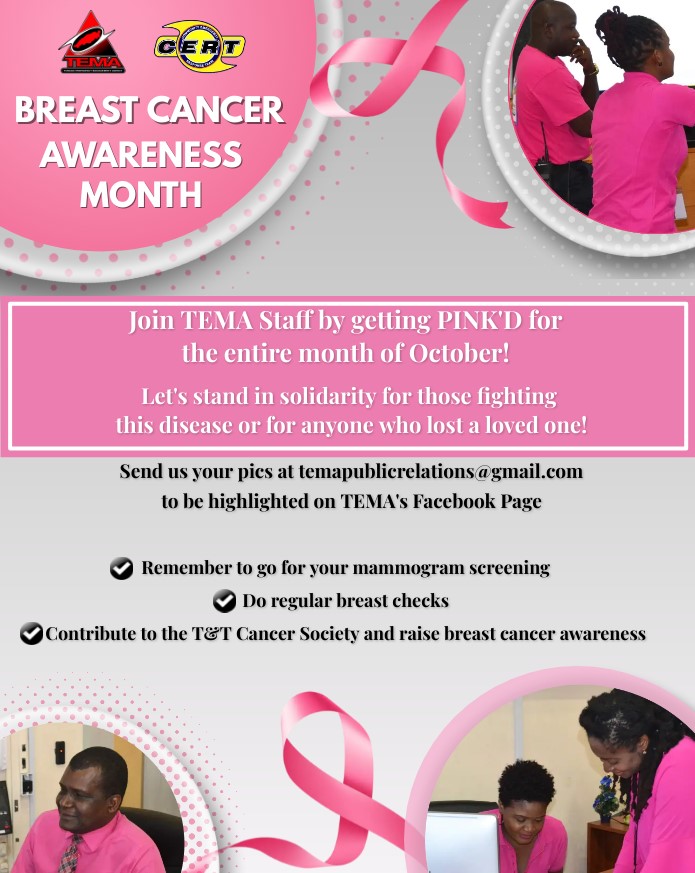 It can affect our mothers, sisters, and friends. No matter who you are, breast cancer may touch your life or someone you know.
Saturday (October 1st) marks the beginning of Breast Cancer Awareness Month, an annual campaign to educate and increase awareness of the topic, as well as the importance of early detection and quality care.
Worldwide, people show their support for those affected by breast cancer, throughout the month. To support the fight against breast cancer, persons are encouraged to wear the color pink as much as possible. One THA Department that's doing just that and raising awareness of this important issue is the Tobago Emergency Management Agency (TEMA). So look out for TEMA's staff to be dressed in their pink during the entire month of October.
"In addition to TEMA's Get PINK'd initiative, we have requested that staff contribute funds to donate to the Trinidad and Tobago Cancer Society. It is our firm belief that every cent raised could help fund potentially life-saving research, or give someone information they can rely on when they need it most. Will you join us?" Public Information, Education and Training Officer Zynara Llewellyn asked. See the attached flyer on how.
As a woman, it's important to assess your risk, as knowing your family history and talking to a doctor about it can have an impact on your health. In addition, remember to go for your mammogram screening, do regular breast checks, and make healthy lifestyle choices.
Living a healthy lifestyle is within your control and may lower your risk of breast cancer.