'Hard Target' Training for Tobago
The Tobago Emergency Management Agency (TEMA) and disaster readiness stakeholders do much more than staying ready to respond to an emergency.
They also encourage residents to maximise their resilience to natural disasters and other emergencies. And they are raising community awareness and preparedness through the 'Make Yourself a Hard Target this Hurricane Season' campaign.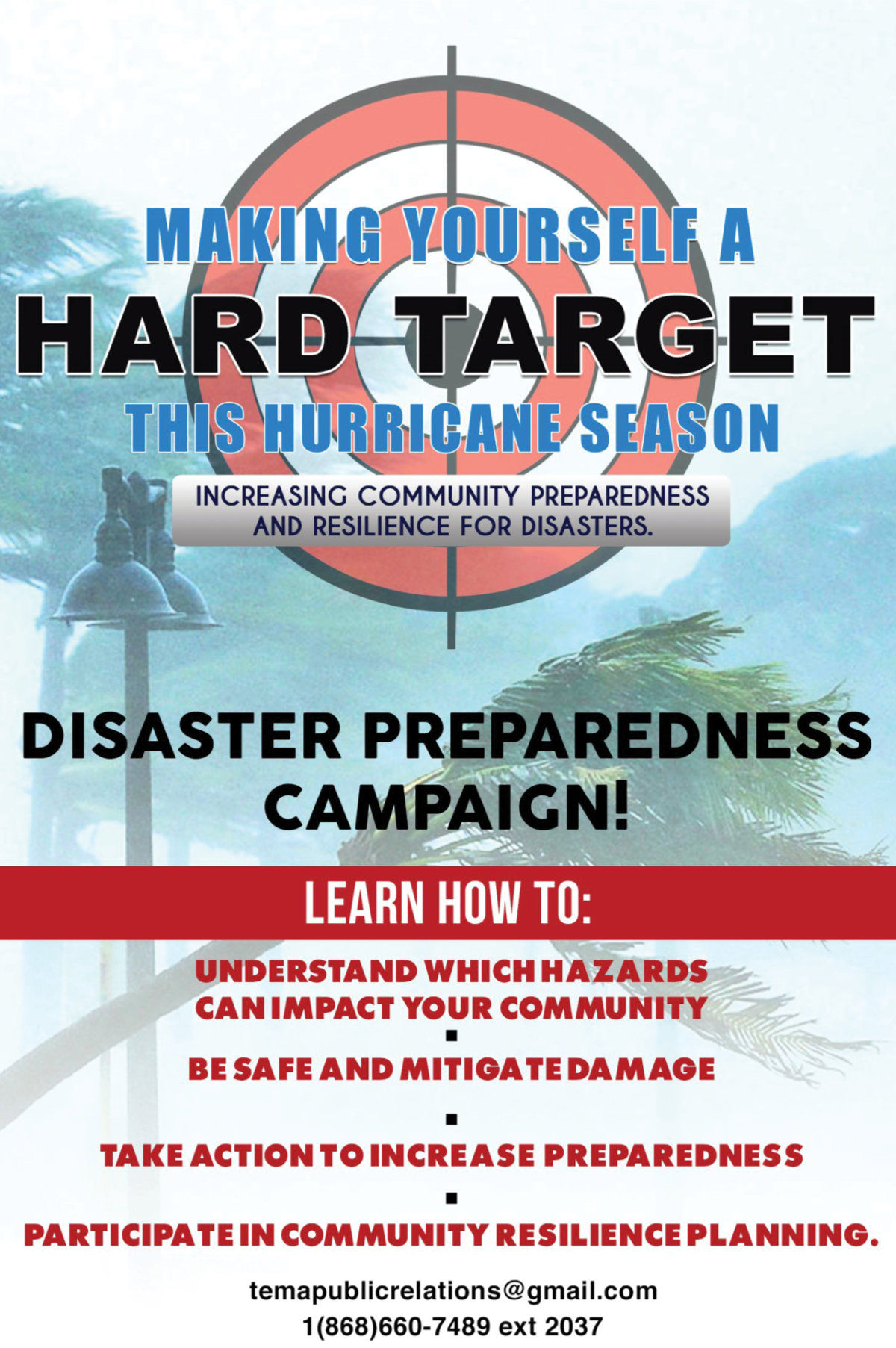 It's the work of the Tobago Emergency Preparedness Outreach Committee, which comprises TEMA, the Met Office (TTMET), the County Medical Officer of Health (CMOH), the Division of Health, Wellness and Social Protection and the Fire Service (TTFS).
The training will also reinforce the individual responsibility of all residents in preparing to respond to an emergency, especially during the hurricane season. Being prepared through proper planning can make a big difference in helping families to stay safe, and to recover as quickly as possible following a disaster. This includes the ability to maintain or quickly re- establish community and home operations.
TEMA's Community Outreach Programme Officer Melissa Yearwood said it is important to enhance public awareness and to encourage preparation for emergencies. Beyond this, however, she is hoping to develop a culture where people understand the importance of being prepared and are ready to take action as well.
"We recognise that disaster preparedness may not always be at the forefront in the minds of every Tobagonian," Yearwood-Jack said. "A lot of the time, we only really think about a hazard and its effects once an incident has occurred. So, the main aim of this campaign is to educate our community on why they should be prepared before, during and after a disaster."
The campaign is targeting vacation summer schools and other institutions that would like their staff to be educated on emergency preparedness. The first presentation for the campaign will be held at the Airports Authority at Crown Point on Friday, July 15 th , from 10 a.m.
To find out more about the initiative, or about making yourself a hard target, contact TEMA at 660-7489, extension 2037, email temapublicrelations@ gmail.com or check out TEMA's Facebook Page.