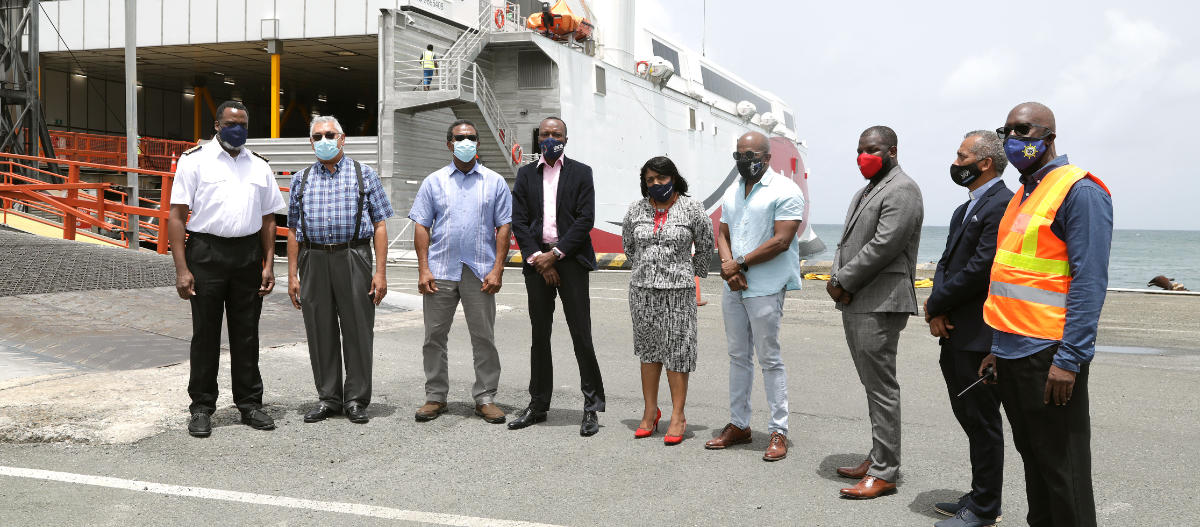 The 100-meter Buccoo Reef vessel arrived at the Port of Scarborough,Tobago last Friday.
On June 10th a Blessing Ceremony was held, led by RC Priest Fr. Leslie Tang Kai and Pastor Paul McKenzie. 
"It's a good thing to give thanks to God," said Pastor McKenzie as he encouraged residents to value their way of passage between the islands of Trinidad and Tobago. "We play a part in taking care of and maintaining this beautiful vessel," he said.
Fr. Tang Kai offered a prayer for safe travels, "As this vessel is entrusted upon us, and we sail and use it, we will truly be protected by your great love. Lord go before us."
 "These gentlemen have created history, because they're the same priest and pastor who blessed the A.P.T. James," said Port Authority of Trinidad and Tobago (PATT) Commissioner, Tommy Elias, adding that he hoped travellers will have "smooth waters and safe passage" on the vessel.
The event was attended by THA Chief Secretary Hon. Ancil K. Dennis and other stakeholders.
In receiving the vessel on June 4th, Dennis said: "It's a proud moment for me
as a Tobagonian. These two new fast ferries, the A.P.T. James and the Buccoo Reef, will be to the benefit of the people of Tobago, and Trinidad by extension. I believe that this means for us, going forward, a 100% reliable seabridge service."
The A.P.T. James arrived earlier this year, in January, and is now joined by the Buccoo Reef on the seabridge between the twin-island state.