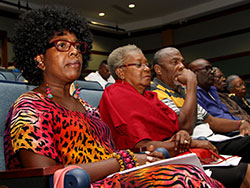 Last Sunday, 17 August, public and community groups gathered at the University of the West Indies' Teaching and Learning Complex in St Augustine, Trinidad, to share their views on Tobago's journey towards self-government, and many of those who attended are calling for more talks. The meeting was organised by The Forum, a group comprising the Tobagonian political parties that contested the 2013 Tobago House of Assembly (THA) elections.
Hochoy Charles, leader of The Platform of Truth, emphasised that the discussion is about Tobago having a greater say in governing Tobago. "We have an opportunity in Trinidad and Tobago to settle this issue and to strengthen the union. Our union is the weakest I know in the Caribbean today. If a disaster strikes this island of Trinidad and devastates it, we [Tobagonians] are dead. Our business is to discuss the strengthening of the union, not to fragment it."
Attendees said they were heartened that the talks came to Trinidad so that they can hear Tobago's problems and also have a say on Tobago's development.
One such contributor, Neville Brown, a Tobagonian now living in Trinidad, commented that "warring parties" in Tobago have come together for the first time to present a united front. He added that "it is pointless coming to Trinidad if you can't agree in Tobago. It's the first time the THA has taken its case to Trinidad because you can't do it alone, you have to face Trinidad." He also recommended that more consultations be held in Trinidad before making decisions.
The public also voiced some issues that they felt Tobago's leaders need to address for self-government. Stephen Sheppard stated that decisions for Tobago should be made in Tobago because Tobago knows best what it needs. He also stressed the need for innovation in Tobago and encouraged Tobagonians to maintain the agricultural sector but also develop "brain power" and "build knowledge", as this is increasingly one of the major exports of first world countries.
Nicole Alexander said Tobago should focus on feeding its own people, adding that Tobago has enough expertise to rule itself. She thinks that some expertise will need to be exported, and there will always be a synergy with Trinidad for human resources.
Concerns were raised, however, that as a country develops there is often an attendant increase in crime. Conrad James and James Trim said that, for this reason, the island ought to have the power of national security. Trim added that other issues will need to be looked at, including residential status for voting and Tobago taking control of its energy resources at Block 22, Hibiscus, etc.. This point was reiterated by Stephen Kangal, who said that the THA is an elected body and therefore politically speaking has a superior authority over a non-elected senator who makes decisions for Tobago in Trinidad. Kangal added that "there is enough justification for Tobago to be given its jurisdiction and the power to exercise sovereign rights over its living and non-living resources because the economic zone around Tobago can be easily identified."
Chief Secretary Orville London was pleased with the contributions from the audience, saying that the discussions will continue in Tobago and in Trinidad, and that he was delighted to know that "as we move forward, we have the full support of our brothers and sisters in Trinidad".