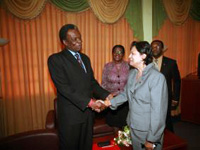 Chief Secretary Orville London has described Thursday's meeting with Prime Minister Kamla Persad-Bissessar at his Calder Hall office as cordial and productive.
London reported that the Prime Minister gave the commitment that in her relationship to the Tobago House of Assembly, she will be guided by the relevant laws and respect for the Assembly, as an important institution in the governance of Trinidad and Tobago. London said that, in his conversation with the Prime Minister, he stressed the need to preserve the traditions which support the integrity and autonomy of the Assembly. He also promised to update the Prime Minister on the progress made in the process for the review of the THA Act and he urged caution in starting another process which could foster confusion and animosity at a time when the emphasis should be on achieving consensus.
London said that he was encouraged by the assurance given by Minister of Tourism Rupert Griffith that the Vanguard hotel will be ready for business in time for the 2011 tourist season. This, he noted, will alleviate the problems related to the availability of high end rooms and encourage major carrier Virgin Airlines to bring another weekly flight to Tobago.
Noting the Government's decision to construct a tertiary level facility and a fire station in Tobago, the Chief Secretary said that he was heartened that there was response to some of the concerns raised in correspondence sent to the Prime Minister in early June and he hoped that the other concerns would be addressed in Wednesday's budget.
London noted that the tone of Thursday's discussion made him optimistic that despite the differences in political ideology, the leaders and representatives that will display the maturity and sense of responsibility that will be so essential in providing the most effective governance for the people of Tobago and the rest of the country.