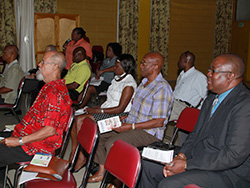 No individual or group will be turned away from attending and making a contribution at the consultations organised by The Forum. The Forum is made up of the political parties that contested the January 2013 Assembly elections to discuss self government for Tobago.
Over the past four days consultations have been held with parliamentarians, Assemblymen, political contributors and activists, business organisations, the construction industry and tourism and allied industries.
However, Dr Levis Guy, who heads the Self Government Secretariat, and is chairing the sessions, extended the invitation to individuals and groups to attend the consultations over the next two weeks. Members of the public can participate in the sessions most convenient to them. The scheduled is available on the THA's website and published in the media.
Sessions will resume at the DIPU Lecture Room on Tuesday at 10 a.m. for media workers, other professional organisations and unions. On Wednesday the session at 10 a.m. will be for financial institutions and at 5 p.m. for faith-based organisations. Arts and cultural organisations will have their say on Thursday at 5 p.m. Sessions will continue to June 25.
Honorary secretary Carlos Dillon of the Tobago Chapter of the Chamber of Industry and Commerce advised the Forum to try every means to get young people involved in the self government process. He suggested that in this day of technology the social media should be used to its advantage.
At the session for contractors on Wednesday attorney Deborah Moore-Miggins who is a member of the Self Government Commission said there is a serious problem with land titles while something should be done about the foreign investment act.