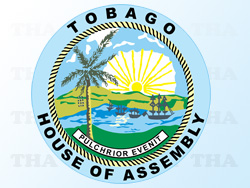 Two officials from German company Berth Hammers, who are coming to complete the $12M refurbishment of the Mondo track at the Dwight Yorke Stadium, have been delayed in Miami due to visa requirements.
The two, along with a third person are needed to mark the athletic track which was re-laid earlier this year by Berth Hammers and local contractor Fitness Centre Limited.
Assistant Secretary in the Division of Education, Youth Affairs and Sport Assemblyman Jomo Pitt said officials of the Sports Company of T&T have been communicating with the Consul General in Miami to resolve the matter. He also said the track marking to meet IAAF requirements is expected to take a week.
Pitt also announced that he will be going to St Kitts this week with the local basketball team to initiate discussions for an exchange programme similar to the one undertaken in football, and that arrangements are being made with the T&T Football Association to stage a football match in September involving the Guadeloupe senior team.
He said last week the Tobago House of Assembly presented a cheque for $325,000 to the Tobago Football Association to assist in meeting its commitment for prizes in their 2013 competition.